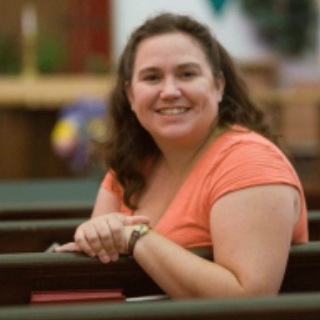 Amy Beth Durward, Pastor of Cambrian Park United Methodist Church, really knows how to captivate a listener, which is probably one of the many qualities that enhance her calling as a minister. When she tells about the story of finding her calling, or more accurately, how her calling found her, the listener can see how being in the ministry was meant to be.

"I was doing HIV prevention work for my bachelor's thesis, because you're required to write one at the University of California, Santa Cruz. I wrote it focusing on a harm reduction model, as I would present it to my Southern Baptist grandmother, explaining how eroticism and safer sex are things a good Christian girl should be into," said Durward. "When I did present it to her, she said that she would trust me."

It was a Sunday morning church service not long after that honoring Martin Luther King Jr. near his birthday, when Durward's pastor asked the congregation if people would speak to what their dream was. Durward passionately presented her thesis, and afterward, Rev. Delgado asked her if she had ever thought about going into the ministry.

"My husband was astounded at the fact that I got up and spoke eloquently and at length after being someone who could barely string two sentences together," says Durward.


That moment helped to convince her husband that Durward would make a fine minister. Add to this the fact that "I was a sex educator when he met me, making it (her career change) seem like a bit of 'bait and switch', but he adjusted to it," says Durward.

One of the biggest challenges Durward says she faces as a pastor these days is to find and present the relevancy of an old religion to today's society.

"At the moment, the world is changing rapidly," she says. "My kids are facing far different issues than I did as a kid. How to translate an ancient faith into a world that is changing, and do it well, is my biggest challenge."


Of her greatest accomplishment so far, Durward says, "I'm most proud of those moments here and there when someone knows that God loves them. They know their own value because of God's love. Those are moments of which it is awesome to be a part. I believe that if people feel secure in their own value and worth, that they are more able to share their love with others."

Durward feels that a turning point in her life was when she switched which parent she lived with.

"I lived in Tokyo with my father for two years, as a high school student," she says. "Since my father didn't practice a faith, I basically had to act as an adult, taking ownership of who I was and what I did. Living in Japan was very different, as I was living in another place in the world where your language is not the dominant one. I learned that there are other ways of being in our world, and that was very valuable."

Despite all her work as first an educator and then a minister, Durward describes herself as "an introvert. I'm absent-minded, but I hope, in a cute way."

She says the craziest thing she's done is to go to "the Big Island of Hawaii and stand very, very close to the moving lava."